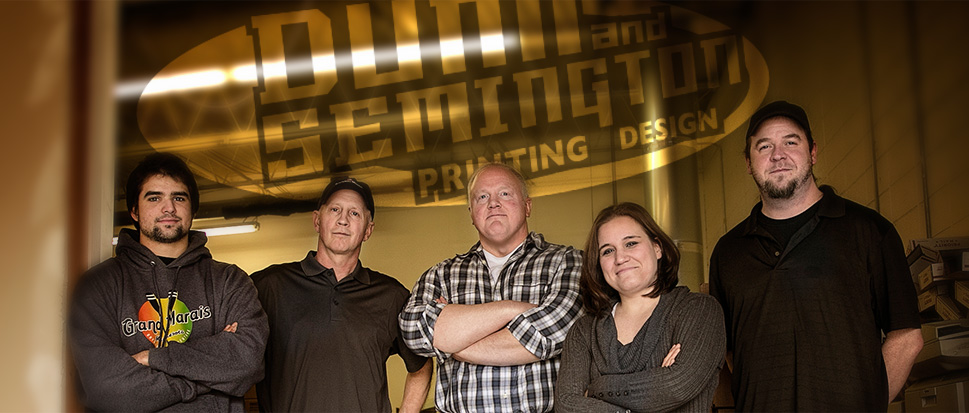 Dunn & Semington Design and Printing of Minneapolis, MN began in 1994 as a simple idea between Pete Semington and Chuck Dunn. They recognized that small and medium-sized businesses were being neglected in commercial printing in Minnesota. Large, repeat orders were the only sales Commercial Printers were seeking which left the smaller businesses without many options. In addition, small business owners were not getting creative help from their Printers.
"Smaller companies were being ignored by commercial printers, so we started pretty much the smallest company of all. We've grown (and grown up) a lot, but we've never forgotten who we serve."
Chuck and Pete decided to meet the needs of these businesses. From Chuck's home they started making calls to friends, asking for their printing and designing business. They designed their projects on a rented Macintosh IIc. After one year were able to buy an AB DICK 360 printing press and operate out of Chuck's garage. Pete would run the press in the morning and make sales calls in afternoon, smelling like ink. In 1996 they moved to a basement on Lyndale Avenue and continued to expand their business. In 2008 they moved to their current location. Many of the customers they relied on to build their business are still part of their clientele today 16 years later.
Chuck and Pete continue to operate with belief that the most important part of doing business as commercial printers in Minnesota is good customer service. They pride themselves on offering the best equipment, great personalized service and excellent printing and design products while also keeping overhead and costs low – returning that savings to you the customer. Based on building Dunn and Semington from the ground up Chuck and Pete understand the need of businesses, to do more for less and continuously work to streamline processes, be innovative in production and get clients the best price possible.
Our customer promise is we will provide personalized service,
quality product and a price that can't be beat.